Source: CNBC.com   Authored by Karma Allen  Monday, 20 Jul 2015 | 7:07 PM ET
(click picture to view the video clip)
A growing number of entrepreneurial disruptors are accelerating China' s shift toward a more consumer-based business model and away from the current exports-focused one, says Edward Tse, CEO of Gao Feng Advisory and author of "China's Disruptors."
"Certainly there's a change in the China model.… Right now the trend is to become more innovative," said Tse, in a Monday interview with CNBC's "Closing Bell." "We have already been seeing the likes of Jack Ma, or other sorts of entrepreneurial companies, who are very innovative or very fast, and we think that they're going to be changing the whole China model."
The world's second-largest economy grew at an annual rate of 7.0 percent during the second-quarter, beating a Reuters poll forecast for 6.9 percent.
Tse, who has worked with hundreds of business heavyweights and the Chinese government, said the 7 percent growth "sounds about right."
The Chinese government launched a massive stimulus package this year in an attempt to stabilize its slumping stock markets, but Tse said the government is supportive of the private sector.
Regulators recently unfurled a series stimulative measures, such as banning listed companies' big shareholders from selling shares or limiting shorting activities in stocks and futures, while vowing to crack down on illegal trading activity.
Tse demurred when asked if China's communist government might intervene in the private sector if it got too large.
"[I]n the longer term as these entrepreneurs become even more powerful… from our standpoint the government is actually coming along to support them as well," Tse said.
—————————————————-
Gao Feng Advisory Company Limited

Beijing Office
Tel: +86 10 5650 0676
Fax: +86 10 5650 0670
Email: info@gaofengadv.com
Hong Kong Office
Tel: +852 2588 3554
Fax: +852 2588 3499
Email: info@gaofengadv.com
Shanghai Office
Tel: +86 21 5117 5853
Fax: +86 21 8013 7999
Email: info@gaofengadv.com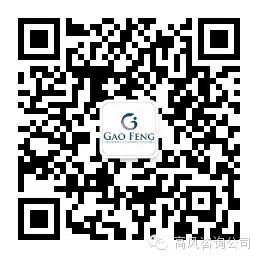 更多资讯欢迎访问以下平台:
高风微信公众平台号:Gaofengadv
高风官方微博:高风咨询公司
高风官网:www.gaofengadv.com