UK's trade environment remains attractive despite uncertainties after EU leave vote

Britain's decision to leave the European Union came as a major surprise to leading figures in China's business community and led to a major sell-off on the Chinese stock exchanges in the immediate aftermath.
There were fears the result might undermine the so-called golden era of economic and business ties sewn up on President Xi Jinping's visit to Britain in October last year.
Peter Batey, one of the leading British figures in the China business community and chairman and co-founder of investment banking group Vermilion Partners, could not see what Britain had to gain from leaving the EU.
"Britain already had a very special deal with the European Union. It was excluded from any moves toward 'ever closer union', it was out of Schengen (the single visa arrangement that allows non-EU citizens to move freely across the EU) and out of the single currency. Europe, in a sense, had bent over backwards to accommodate the UK," he says.
The financier, who has been in China since 1986, did not think, however, the decision would have a direct impact on Chinese investment in the UK.
"In terms of investment, the Chinese will be able to buy British companies in the same way they always have and I assume this will still be the case with British companies being able to invest in China. It is the trade and investment flows between Britain and Europe that are going to be the interesting aspect of this and whether they are adversely affected.
"Nothing, however, is going to change for a little bit over two years because I suspect Article 50 (the formal mechanism for leaving the EU) is not going to be invoked until the autumn."
Russell Brown, managing partner of accountants Lehman Brown in Beijing and former chairman of the British Chamber of Commerce in China, believes there might be benefits for trade between China and the UK with the two countries being able to agree their own trade treaty.
"It enables China to go and do a trade treaty with the UK because at the moment it is being frustrated by the European Union and there seems to be no incentive to get anything in place quickly."
He believes that contrary to what was argued during the referendum campaign, China might be keen to do such a deal quickly.
"Britain has a lot of things that China needs such as innovative industries, education and, of course, financial services. Such a deal could also really help British businesses get access to the opening up of China's services sector."
The European Union Chamber of Commerce in China said in an official statement that it "deeply regretted" the UK's decision but respected the verdict of the British people.
Patrick Horgan, the European chamber's vice-president, says there would be a certain amount of instability as a result of the vote.
"Inevitably, this decision will lead to a period of uncertainty. The priority now must be to move through this period as quickly as possible, and we look to the UK and the EU to clarify how they will manage the process and work together in the future," he says.
Edward Tse, founder and chief executive officer of management consultancy Gao Feng Advisory Company, says his clients, including Chinese state-owned enterprises and private companies, were taken aback by the decision.
"Most of them were shocked by the result and most of them wanted it to go the other way."
He says some of his clients might see it as a buying opportunity since UK assets will be cheaper because of the falling pound and other factors.
"Even in the medium to longer term, I think the value of UK companies, depending on the sector, will fall relative to what it was before Brexit. I think the potential of many companies will not be as great because they will become more isolated in the future and their prospects will be diminished."
Certainly the outcome of the referendum has not altered the plans of the China Entrepreneur Golf Club, a leading business networking organization founded in 2007, to make a trip to Scotland – one of the few areas of the UK that voted to remain in the EU – in July.
The club's members include such Chinese entrepreneurial titans as Liu Chuanzhi, founder of computer group Lenovo Group; and Niu Gensheng, the man behind Mengniu Dairy Group.
The members will be meeting representatives of leading companies such as Celtic Renewables and Scottish Mortgage Investment Trust.
Chen Yalin, the club's brand manager, says it would be business as usual and those going will still be hoping to mix business with sport.
"As well as playing golf, we want to see some of Scotland's history and culture as well as meet with British entrepreneurs. So the UK referendum's results won't affect our plan or our expectation about this visit," she says.
Charles-Edouard Bouee, global chief executive officer of the management consulting firm Roland Berger who has close connections with China, believes the referendum result would be bad for Britain.
"It is very likely that there will be economic downsides. FDI (foreign direct investment) in the UK will be lower over the next few years and London's status as a financial center will be weakened."
Bouee, also author of China's Management Revolution, says the precise effect on UK industry will depend on what kind of Brexit it manages to negotiate.
"Only the details will bring clarity about this. Obviously, the British voters did not believe in the drastic scenarios that were published by both the UK government and economists in the last weeks (of the campaign). Or – even more remarkably – they took their decision despite having these downsides in mind."
————————————–
Gao Feng Advisory Company Limited
Beijing Office
Tel: +86 10 8441 8422
Fax: +86 10 8441 8423
Email: info@gaofengadv.com
Hong Kong Office
Tel: +852 2588 3554
Fax: +852 2588 3499
Email: info@gaofengadv.com
Shanghai Office
Tel: +86 21 6333 9611
Fax: +86 21 6326 7808
Email: info@gaofengadv.com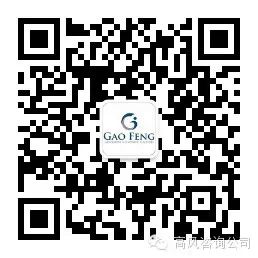 更多资讯欢迎访问以下平台:
高风微信公众平台号:Gaofengadv
高风官方微博:高风咨询公司
高风官网:www.gaofengadv.com