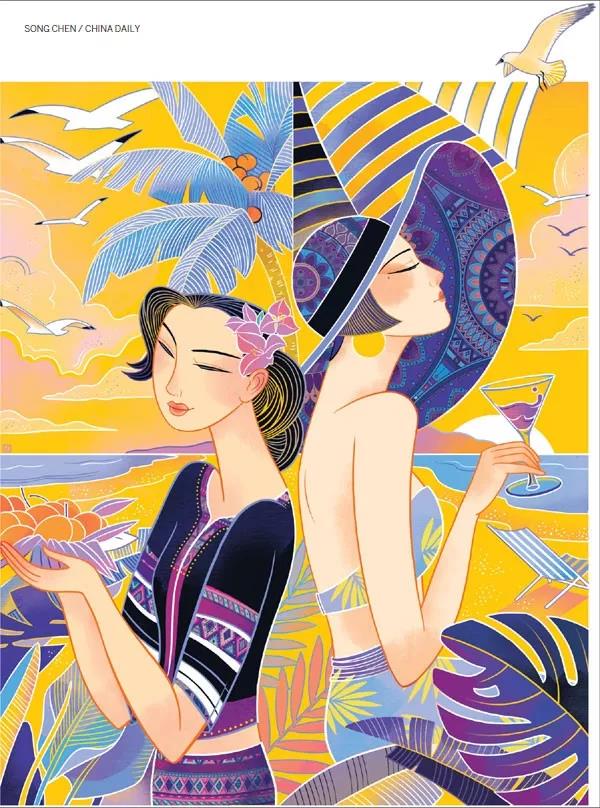 By Andrew Moody | China Daily Europe | Updated: 2018-04-27
Bright future is seen for island province of Hainan after President Xi announces free-trade and port plans in new phase of opening-up
Hainan, China's only tropical island province, will become the country's first international free-trade zone by 2020 in an initiative that experts describe as unique, ambitious and far-reaching.
The move, hailed as an important step in the next phase of China's opening-up to the rest of the world, was announced by President Xi Jinping on April 13.
Hainan will also be designated as a free-trade port in 2025, making it China's first such port since the founding of the People's Republic of China in 1949.
The aim is to turn the South China Sea island into a major international tourist destination – with new visa-free access to tourists from 59 countries, including the UK, France, Germany and the United States – beginning on May 1 to kick-start the initiative.
President Xi said Hainan, which will become China's largest FTZ with an area of 35,400 square kilometers – about the same size as Taiwan – will be a unique testing ground for China's further opening-up because of its special advantages, including its existing status as a special economic zone, its geographic location and its ecology.
"Here I solemnly announce that the Communist Party of China Central Committee has decided to support Hainan in developing the whole island into a pilot free-trade zone, and in gradually exploring and steadily promoting the establishment of a free-trade port with Chinese characteristics," he said.
Xi, on his fourth visit to the island since 2010, made the announcement at a gathering to celebrate the 30th anniversary of the founding of Hainan as a province.
"It is a unique initiative," says Edward Tse, founder and chief executive officer of Gao Feng Advisory, who welcomed the move to make Hainan an FTZ. "Most of the other FTZs are centered around commerce and industry, and this one has a focus on travel and tourism. It is good that there is this emphasis on leisure."
Jefferson Yu Wang, Beijing-based partner in government and economic development at international management consultancy AT Kearney, says the plan is a major move by the government.
"I see it as important as the establishment of the Xiongan New Area (now being built 100 kilometers from Beijing). Hainan is the most southern area of China and has major strategic importance as one of the key ports for the South China Sea. It could be as important to China as Hawaii is for the United States in the Pacific," he says.
The establishment of the FTZ also has been welcomed by some of the island's biggest investors.
Fosun International is behind the new, 540,000-square-meter Atlantis resort, an 11 billion yuan ($1.7 billion; 1.4 billion euros; £1.25 billion) investment, in Sanya. The company's senior vice-president, Qian Jiannong, says the FTZ confirms his high hopes for the island's future.
"Hainan is the only tropical island province in China. The era of sightseeing is past and the era of leisure and resort is coming," he says.
Other moves will be to encourage the development of service industries, the setting up of international exchanges for commodities and other goods. It is also hoped that a number of multinational corporations will set up their China headquarters on the island.
Hainan, whose GDP has increased by an average of 8.1 percent over the past five years to 446 billion yuan in 2017, also played a major part in Deng Xiaoping's reform and opening-up policy and became a special economic zone in 1988.
These zones, starting with Shenzhen, Zhuhai and Shantou in Guangdong province and Xiamen in Fujian province in 1980, began the path to China becoming the manufacturing workshop of the world.
In the early 1990s, the Hainan SEZ was home to China's first listed private company, and the Yangpu Economic Development Zone within the SEZ was the first in China to approve leases for foreign investors.
China has since adapted this model, launching a series of free-trade zones starting with Shanghai in September 2013. This was followed by three more, in April 2015 in the municipality of Tianjin and in Guangdong and Fujian provinces, and then an additional seven were announced in 2017 in Chongqing and in Shaanxi, Sichuan, Hubei, Henan, Liaoning and Zhejiang provinces.
Hainan, the first FTZ in the fourth wave of such zones and the only one to have an international designation, could be the most significant yet. The island is seen as a strategic location in China's Belt and Road Initiative, and trade between Hainan and countries involved in the 21st Century Maritime Silk Road has increased by 14.8 percent over the past year.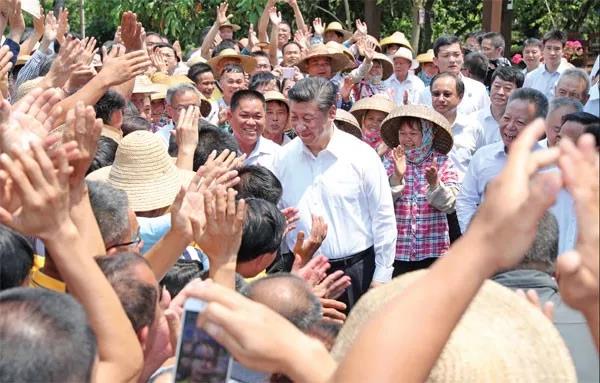 President Xi Jinping greets villagers in Haikou, the provincial capital, during his visit to Hainan on April 13. Photos by Xie Huanchi / Xinhua
The aim is to foster service sector industries on the island in a number of areas, including internet-related sectors, businesses, healthcare and finance, as well as hosting conferences and exhibitions.
One of the biggest such events, the Boao Forum for Asia, concluded earlier this month. It has been held on the island since 2001 and now has the first permanent site, in the town of Boao, for an international conference in China.
In addition, the plan is to establish a number of exchanges in international energy, shipping, commodities and carbon trading, making the island a major financial center as well.
However, tourism remains perhaps the biggest opportunity for the island. The number of tourists has more than doubled from 33.2 million in 2012 to 67 million last year. The aim is to attract 80 million tourists by 2020.
The vast majority of these are Chinese, many of whom – coming from the north of China, which gets bitterly cold in the winter – have second homes on the island.
The challenge, however, is to attract international tourists who now often prefer nearby destinations, such as Thailand and Vietnam. Of those expected to come to the island in two years, only 1.2 million are expected to be international tourists.
Planned new investment announced in beach and water sports facilities, as well as developing horse racing and exploring the development of sports betting and instant lottery, could add to the island's attractiveness for foreigners, many of whom now only visit the island because Sanya, the island's resort city, is a port stop for cruise ships.
Li Renjun, professor at the Hainan Industrial Economic Institute, says the introduction of gambling could help boost the island's status as an international tourism destination.
"The measures will have a strong demonstrative effect in terms of policy innovation," he says.
Wang at AT Kearney says the island's eventual success might not depend on attracting international tourists. "There are advantages in having just Chinese tourists, in that they don't stay for a few days, but often for weeks and months. The island can thrive on Chinese tourism alone," he says.
"The international tourism is likely to come mainly from business visitors, particularly to conferences, which could become a substantial market in its own right," Wang adds.
Chi Fulin, head of the Hainan-based China Institute for Reform and Development, says the FTZ could accelerate China's development.
"As an isolated island, Hainan can only develop and catch up with the pace of the country's growth with the world's highest degree of opening-up," he says.
Chi, 67, a former official who left Beijing for Hainan in October 1987, was among 100,000 employees from across the country to find opportunity and fortune in the burgeoning province in the late 1980s, when it became an SEZ.
He believes that making the island province a new FTZ could be just the boost that Hainan needs.
"I believe Hainan will be a highly international and modern island within another 30 years," he adds.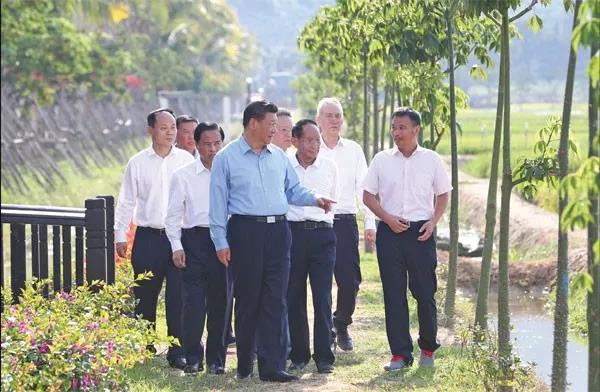 President Xi talks with agricultural experts at Nanfan Scientific and Research Breeding Base in Sanya, South China's Hainan province, on April 12.
The FTZ is likely to play a part in tackling poverty on the island, something that is particularly important to Xi, who has set the goal of eradicating poverty in China by 2020.
He famously visited the small village of Bohou on the island in 2013, making the remark at the time that "whether a moderately prosperous society (China's national 2020 goal) is realized or not, only the ordinary folk can tell".
Since Xi's visit five years ago, 617,000 residents have been lifted out of poverty on the island, with the annual per capita income of rural residents exceeding 10,000 yuan for the first time.
In Bohou itself, 20 cooperatives have been set up in the village to run 70 hectares of rose plantations.
Huang Qi'na, who leases out her family land, says her own personal circumstances have been transformed.
"Five years ago, I earned about 1,800 yuan a month. Now I make more than 3,000," she says.
Meanwhile, in terms of business, Hugh Peyman, author of the new book China's Change: The Greatest Show on Earth, says Hainan could be an attractive location for many multinationals to have their headquarters.
"It could be similar to the US, where many companies base themselves in Florida where they also have the sunshine. Whether the headquarters is just an office does not really matter. The fact is they will have a base in China."
Wang at AT Kearney believes it will be particularly attractive to those involved in oceanic and maritime-related businesses.
"Any industry related to the ocean can move there. The island is a very important aircraft carrier port in the South China Sea, and I expect to see a raft of companies in shipping maintenance and other maritime-related areas move there," he says.
"I also expect to see much more integration between China's civil and military technology, much in the same way as happens in the US but which hasn't previously been the case in China."
Tse at Gao Feng Advisory, who also is the author of China's Disruptors: How Alibaba, Xiaomi, Tencent, and Other Companies Are Changing the Rules of Business, says the announcement of the FTZ is an indication of how serious China is about opening-up.
"We have had the announcements recently about the relaxation of foreign ownership in such areas as automobiles and now this, of creating a new and very different FTZ," he says.
"The SEZs and now the FTZs have been a vital compass point in China's opening-up over more than 30 years. They have enabled China to try new things out and experiment. I think the Hainan FTZ is very uniquely positioned."
Peyman, also founder of Shanghai-based Research-Works, which conducts long-term Asian research for global asset managers, also believes it is a potentially exciting initiative.
"Going back to Shenzhen (the first SEZ), it was about a blank sheet of paper waiting for bold strokes to be painted onto it, and we can see the same with Hainan," Peyman says. "It might not be for 10 years before it has a major effect, but creating this international dimension for Hainan makes a lot of sense."