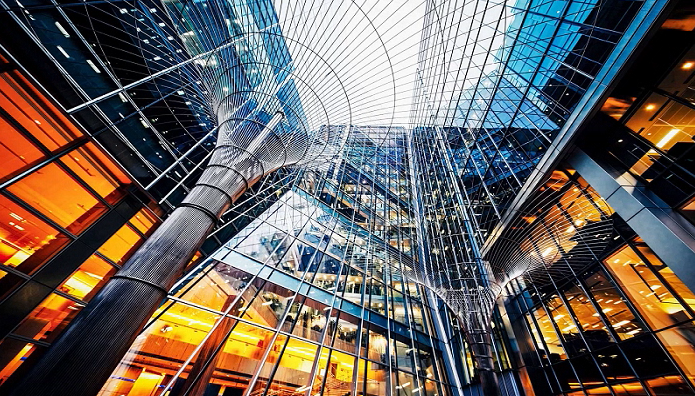 Source: Google
"Innovation is the primary force driving development, and it is the strategic underpinning for building a modernized economy". Chinese President Xi Jinping made this statement at the 19th National Congress of the Communist Party of China in October 2017, stressing the importance of creating a culture of innovation to support China's development in key science and technology capabilities.
R&D Driving China's Innovation Speed
Supporting this initiative is investment in research and development, which is generally viewed across the world as the backbone of a globally competitive and innovation-driven economy. Compared to other countries, China's R&D investment has grown exponentially between 1990 and 2017, and it's currently the world's second largest spender in R&D investment.
Exhibit 1
Nominal R&D Expenditure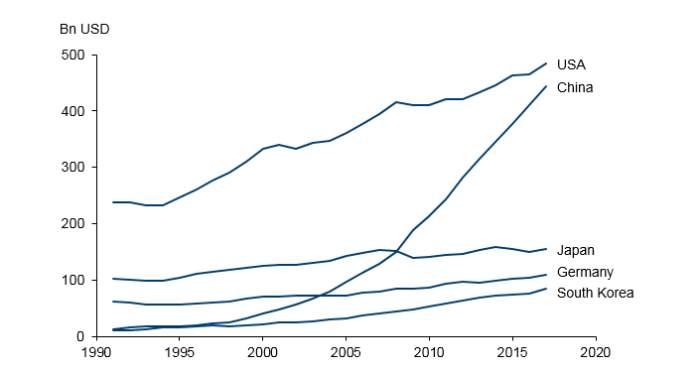 Source: OECD
Late last year, the European Commission released "The 2018 EU Industrial R&D Investment Scoreboard", which covered 2,500 companies from 46 countries that invested the largest amount in research and development in the year 2017/18. These companies recorded a total investment of 736.4 billion euros ($868.4 billion) accounting for approximately 90% of the world's company investment in R&D, up 8.3% from the previous year.
Among those, 438 Chinese companies were covered in the Scoreboard report, accounting for 10% of the total. Their R&D investment grew by 20 percent year-to-year in 2017, compared with a 9 percent increase by 778 US companies and a 5.5 percent increase by 577 European Union companies.
While most of the top companies in the report are from the West, Huawei, a China-based telecom equipment and smart device manufacturer, leapfrogged to the fifth place, registering more than $13.1 billion in R&D investment, and is projected to spend $15 billion in the year 2018/19. Also on the top 100 list are Chinese internet giants Alibaba and Tencent, with double digits growth in their R&D expenditure.
Exhibit 2
Top Ten Global R&D Investors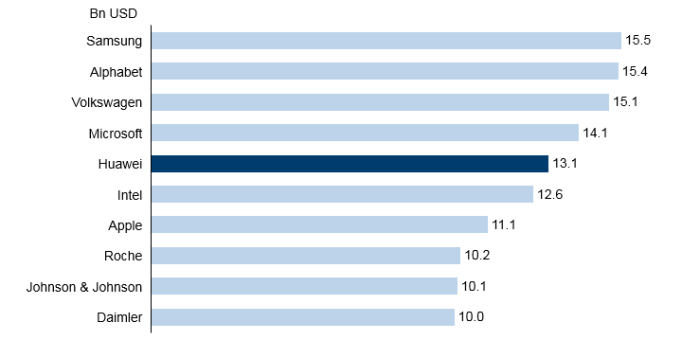 Source: 2018 EU Industrial Investment Scoreboard
Chinese companies are also well known for innovations in areas such as drones, fintech, and artificial intelligence. DJI, a Shenzhen-based company, has a global market share of around 70 percent in consumer drones. Ant Financial, a Chinese fintech company and an affiliate of Alibaba, is now the world's largest unicorn with a valuation of $150 billion. In terms of AI, a Chinese company, Megvii, the owner of the famous Face++ brand, developed advanced facial recognition technology that is widely used in financial technology, smart retail and many other industries. This technology, now used in more than 200 countries, processes over 30 million requests each day. SenseTime, a Chinese AI company founded in 2014, focuses on innovative computer vision and deep learning technology. In May last year, the company successfully raised $620 million in a second round of funding and is looking to raise another $2 billion in 2019.
Exhibit 3
Vibrant Innovative Businesses across Multiple Sectors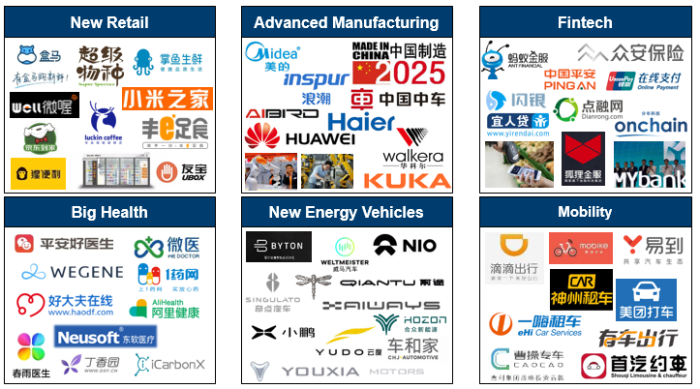 Source: Gao Feng analysis
Reasons for China's Innovations
So what has caused China's innovations, and the entrepreneurship that goes with it, to take off? I think it's because of the following reasons:
1. "Why not me?": At the end of the 1970s, during the onset of China's era of reform and opening-up, the Chinese discovered that not only was their economy backward and undeveloped compared with the economies of the developed nations, but the gap between the Chinese economy and those economies was vast. Against this background, Chinese entrepreneurs were spurred by a new sense of purpose and the desire to strive for success and show the world that they, too, could succeed. Although it's been 40 years since China's opening-up began, this question of "why not me?" is still the key driver behind the Chinese entrepreneurial spirit.
2. Market opportunity provided by the State economy: For a very long time, China's economy was dominated by State-owned enterprises. In a market defined by fast changes, intense competition and the need for innovations, SOEs are usually slower to react. Many private-sector companies have taken advantage of this market gap and have benefited with extraordinary growth.
3. Transformative and intense competition: China's process of shifting from a planned economy to a market economy is gradual and will take time. In this process, a wide range of sectors have opened up and, coupled with the allure of the massive China market, we see players from all over the world igniting intense competition. This state of hyper competition forces companies to innovate in order to stay ahead.
4. Chinese society's pain points: In the process of transformation, pain points that had previously been hidden are now in plain sight. Entrepreneurs considered these pain points as golden opportunities for innovations. Many innovations came about for the sake of solving societal ills or easing the pressure created by societal pain points.
5. The rise of technology: With the wireless internet, smart devices and social media becoming a core part of the everyday life of Chinese consumers, technology has been a key enabler for disruptions provided by innovators and entrepreneurs alike.
6. The massive scale of the Chinese market: The size and fast-changing nature of China's market allows companies to rapidly scale up. At the same time, it provides a platform for innovators and entrepreneurs to learn via trial and error. Leading Chinese companies are also benefiting from high valuations that provide them with the needed capital ammunition to support their growth.
7. Capital resources: Over the past 20 years of China's development, many venture capital companies and angel investors have benefited from exceptional returns on their investments in China. Regardless of whether these investors came from abroad or were homegrown, Chinese companies have benefited greatly from the vast sums of capital these investors have provided over time.
"Three-layered Duality" Development Approach
Against this backdrop, China's unique development model also plays a crucial role. With pragmatism and tangible results in mind, China has figured out its own development model without initially consciously knowing it.
At the top, the central government's guiding hand in Beijing sets goals and directions for the country, giving the rest of the country clear targets to follow. At the grass roots level, private sector entrepreneurs, who were given the opportunities to re-emerge, have become a major force in driving not only the growth of China but the upgrading of the global economy. In the middle, China's local governments, in response to the central government's direction and strategy, channel their resources and focus on areas of national and local priorities. The local governments often collaborate closely with entrepreneurs who bring innovative ideas to bear. As the local governments compete with each other, some of them also often collaborate in regional clusters.
Exhibit 4
China's "Three-layered Duality" Development Model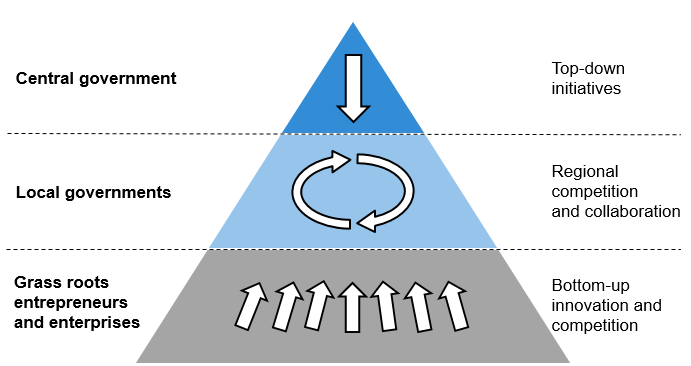 Source: Gao Feng analysis
China is no longer just a state economy, the private sector has become very significant. An earlier article in the South China Morning Post said that the scale and influence of China's private economy can be recapitulated by "56789" – contributing 50 percent of tax revenue, 60 percent of gross domestic product, 70 percent of industrial upgrades and innovation, 80 percent of total employment and 90 percent of the total number of enterprises. On the other hand, state-owned enterprises provide public goods, (e.g., infrastructure and environmental improvement measures) for uplifting utility of the Chinese people. This dual economic structure, while having hiccups along the way, is also largely symbiotic to each other.
This three-layer working paradigm, though not perfect, has indeed been proven to enable robust momentum driving progress forward and generate resilience for continued development. The last 40 years of reform and opening-up have brought incredible changes and progress to China, turning the image of the country upside down from a planned economy to one of the world's most vibrant business landscapes.
Using AI as an example, China's unique system among other nations has enabled forces from the central government, the private sector, and local governments to work towards success in its AI development. China has positioned AI as a national strategic priority, aiming to gain first-mover advantage in the revolutionary AI technology to leapfrog foreign peers and to become a world leader in science and technology development. In July 2017, the State Council, China's Cabinet, released a "New Generation AI Development Plan", declared the goal for China to become a global leading AI innovation hub with an industrial scale of over 1 trillion yuan ($151 billion) by 2030. In addition, to boost the private sector overall, Xi Jinping met entrepreneurs in November 2018, and China Banking and Insurance Regulatory Commission chief Guo Shuqing followed up with a statement that no less than 50 per cent of new loans should go to private businesses.
Not only is the central government very supportive of AI innovations, local governments in China are also investing heavily in AI technology innovations to gain regional competitive advantages. For example, Guizhou, one of poorest provinces in China, positions itself with support from the central government as China's "Big Data Hub", and has attracted major companies, such as Apple, Alibaba, Tencent, Qualcomm, and Intel.
Local governments also have a "coopetition" mindset, willing to collaborate with cities in a cluster and region and grow together. For example, cities within the Guangdong-Hong Kong-Macao Greater Bay Area, such as Dongguan, Guangzhou and Shenzhen, have all been competing with each other for a long time, but they will also collaborate to incorporate AI into their development plans and leverage it as a key economic growth engine for the Greater Bay Area cluster.
Moreover, the private sector is also eagerly responding to the goal set forth by the central government and investing heavily under favorable policies to promote the state of development of their AI technology. Leading internet giants such as Baidu, Alibaba and Tencent, rising startups like iCarbonX (healthcare), Mobvoi (natural language processing), as well as unicorns like Megvii, SenseTime and iFlytek are either already adopting AI technology into their operations or investing in it.
Trade War: Accelerating China's Reforms and Innovations
Even the recent trade dispute initiated by the US President Donald Trump became a major driving force leading to China's increased innovations. Since the tariff war broke out, China has accelerated the opening of its market to foreign companies, spurring innovations through competition.
In April 2018, Beijing set a timetable for phasing out foreign ownership limits in the automotive industry. It is also easing curbs on sectors such as banking, securities, insurance, agriculture and aircraft manufacturing.
Forced technology transfer, one of the main issues driving the US-China trade war, will now be banned. With the new law passed emphasizing intellectual property rights for foreign investors and other incentives from establishing special economic zones with attractive tax and business regimes, allowing the transfer of profit and capital gains out of the country, and shortening the list of prohibited investment projects, the central government has been aiming to even the playing field for the companies competing in China.
China's market size and the potential for profits mean that when the government opens up a sector, it becomes an arena for some of the world's most intense competition. This forces all companies in China to be innovative and to create the best products, services and business models to achieve success. With the strong "why not me?" mentality among Chinese entrepreneurs, when an opportunity arises they tend to seize it and give it a try. Some – maybe even most – may fail, but with a population of 1.4bn, even a small percentage of successes is noteworthy and these are going to encourage many others to try their luck. In short, waves of new entrepreneurs in China will be pushing for greater experimentation and more innovations.
China has reached a turning point. The age of single-minded pursuit of growth is over, and there will instead be a focus on innovations in technological capabilities for sustainable economic growth. Paradoxically, the pressure from outside, intended to thwart progress, is likely to push China into a wider opening of China's market to a new wave of competitors which will ultimately spur an increased degree of innovations on China's soil ground.
Looking Forward
China will be in the front seat witnessing the turning point into the Fourth Industrial Revolution, perhaps ahead of most of the other countries in the world. As new and emerging technologies like AI, IoT and blockchain are here and 5G just around the corner, the Chinese are fully embracing them to further enable innovations.
Exhibit 5
Major Emerging Disruptive Technologies
Source: Gao Feng analysis
Many foreign companies and their lobbyists have complained for a long time about the lack of market access in China and have demanded "reciprocity". While they remain fixated on such issues, they have largely ignored the major shift in China's innovations in the meantime and have become as bystanders on the sidelines. Innovation has become, and will continue to be, a global, prevailing theme, and a country's future well-being hinges upon its willingness and ability to embrace this trend.
The US – China trade dispute notwithstanding, China will emerge as a larger and more capable, innovative economy. China's pathways will inevitably involve many ups and downs, and some of the experiments may not work out as planned and some resources will be wasted. The lack of core technologies such as cutting-edge microchips have exposed China's weakness but this has also given impetus for the Chinese to catch up. Many start-ups would fail, but a small percentage will make it. It would be fool-hardily for anyone to discount China's will and ability to achieve its goals.
Innovations will certainly create social challenges such as job dislocations, education re-configurations, and increased wealth disparity but it will also bring about advances to humanity and create major opportunities for companies and individuals who can anticipate the opportunities ahead of time and can figure out ways to capture them. For those who can't or won't, they run the risk of being marginalized or even disrupted away. It's time to ask yourself, which side of history would you rather be on?