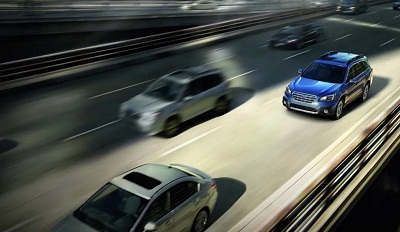 The Rebound of China's Automotive Market
China's automotive market, already in a multi-year decline, has been hit especially hard by the COVID-19 pandemic. In the first quarter of 2020, China's auto sales were slashed by 42.4 percent year-on-year, with the passenger vehicle (PV) segment plunging further than the commercial vehicle (CV) segment.¹In the aftermath of the pandemic, the industry has been showing some signs of recovery. Daily average sales climbed steadily over February and March, recording year-on-year growth of 4.4 percent in April (see Exhibit 1). In particular, trucks contributed most of the growth in CVs – especially in heavy-duty trucks (HDT), which jumped 60.5 percent in comparison to 2019.²

Exhibit 1 Year-on-Year Growth in April Has Halted a Two-year Decline in China's Auto Market Sales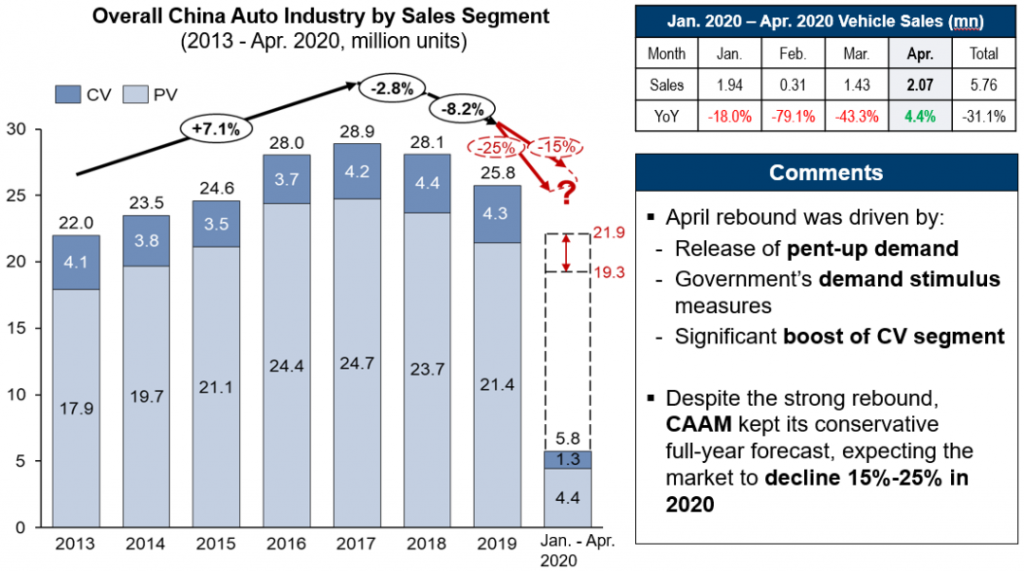 Backing the rebound is a number of factors, including pent-up demand, infrastructure development, a surge in ecommerce delivery, and a boost in CV sales. Most importantly, governments of all levels have injected substantial stimuli into the automotive market. For example, in March, the central government released guidelines to bolster vehicle consumption, such as canceling restrictions for pick-ups entering cities, facilitating the transaction of used vehicles, and subsidizing purchases of new cars. In response, local governments like Beijing and Guangzhou have respectively announced new purchase quotas and subsidies.Nevertheless, recovery in the new energy vehicles (NEV) segment has been weaker relative to the rest of the market. There are challenges at multiple fronts. First, on the policy level, the demand stimulus measures have somewhat placed new energy vehicles at a disadvantage. Second, the demand for ride-sharing and car rental has shrunk, due to lockdown and quarantine practices during the pandemic, which could continue over the longer-term. Lastly, the twin blows of the virus and the oil price war have led to historically low oil prices, which encourages internal-combustion engine (ICE) vehicle purchases while crowding out the demand for NEVs.Prior to the pandemic, the Chinese government had signaled downward revisions to the subsidies regarding NEVs. However, the recent situation has pushed policymakers to shift gears. For instance, the Ministry of Industry and Information Technology (MIIT) decided in January not to further cut subsidies for NEVs, a move not well-liked by traditional OEMs. In late March, the State Council decided to extend the validity of NEV purchase subsidies and tax exemptions for two years. The government also addressed regulatory issues to invigorate the industry going forward, covering NEVs, charging infrastructures, smart transportation and the integration with smart city initiatives.Currently, it is still premature to declare victory. According to the China Passenger Car Association (CPCA), a V-shaped recovery would be based on four major factors: inventory destocking and pushed-back demand, increase in first-time buyers who feel more secure to own a vehicle, rise in trade-ins for higher-end vehicles, and government stimulus to boost consumption. The CPCA warned that the foundation of such recovery remains weak, since the overall recovery in the service sector has been sluggish. Expectations of rising housing prices, as a result of increased lending, will also affect the car market. This, combined with falling incomes, creates long-term headwinds, and these stimulus measures will only bring a short-lived tailwind if they not supported by macroeconomic fundamentals. Indeed, CPCA projects a 12% drop in PV sales for 2020 to 18.3 million units.³

Forces Driving China's Recovery

Thus, carmakers are dealing with not only the aftermath of the pandemic but the underlying changes in the market as well. At the broader macroeconomic level, China's recovery will be driven by three main forces. Firstly, the rebound will be primarily driven by massive government-led investments that aim to kickstart the economic recovery both at home and abroad.Secondly, the pandemic has also led stakeholders to comprehend the innate benefits of autonomous and robotics technologies, which were previously understood only from a productivity standpoint. The pandemic, however, demonstrates the resilience and flexibility that these technologies create by reducing the exposure to manual labor. Instead, a more dynamic system built upon autonomous and robotics technologies will allow economies and businesses to adapt to the rapidly transforming world and the new challenges it brings, such as more flexible and less centralized manufacturing.Finally is the realization of a new global order, as economies around the world are scrambling to salvage what they can. This has precipitated the acceleration towards "One World Two Systems", with the two systems centered around the US and China. No longer are globalized solutions always suitable for businesses as unique products and solutions will be required as these systems bifurcate.For the automotive industry, four forces will motivate its transformation. One such force is consumers shifting from offline to online, which increases the demand for goods movement services. Another is the rapid commercialization of autonomous vehicle technologies, with players ranging from ecommerce platforms to OEMs, all seeking to maximize their capabilities and profits. The third force is an increasing regionalization and bifurcation of the automotive supply chain; this occurs since both US- and China-centric solutions are made necessary, by governments looking to protect themselves but also by the unique needs of both markets. Finally, policies will push forward adjacent markets as well, such as the accelerated development of new infrastructures and smart cities (see Exhibit 2).

Exhibit 2 The Forces-at-Work in China's Auto Industry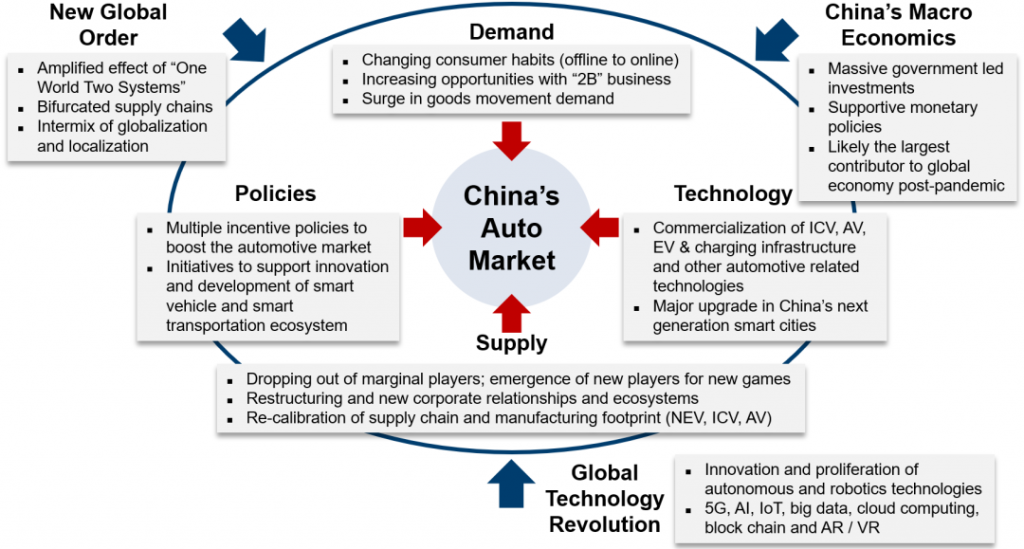 Future Scenarios and Discontinuous Changes
To adjust to the rapidly transforming global and local automotive markets, businesses need to visualize future scenarios and potentially realign their strategic focuses. We anticipate three possibilities for the coming year in China's auto industry. Least likely is a pessimistic scenario, characterized by slow growth in sales and an industry-wide hesitation to invest further. This will also be accompanied by weaker players eventually being squeezed out, whether local or foreign.A slightly more probable and optimistic scenario is that sales pick up and may even begin to grow strongly. Autonomous vehicles (AV) in the goods movement markets thrive, and a healthy volume of investments from new and existing players flow towards these markets and solutions. In this case, a "new game" takes shape around intelligent and connected vehicles, new digital infrastructure and smart cities.However, more likely is a middle-of-the-road scenario, where car sales recover somewhat slowly, to slightly higher than the pre-pandemic level. China's economy will become receptive to AV, particularly in terms of goods movement as the first step before people movement. New and existing industry players will see and attempt to capture these new opportunities, though a few weak players may be squeezed out. The development in intelligent and connected vehicles, AV, new, digital infrastructure and smart cities will start to gain traction.We will also witness some critical changes and real discontinuities in the future of the industry. First, there will be a significant restructuring process, squeezing out capacity-overhung incumbents and creating new players that cater to new demands and technologies, especially with AV goods movement. As players seek to build their capabilities, new corporate relationships and ecosystems will emerge.Second, market segmentation by product is set to shift dramatically. The industry will gravitate towards connected and intelligent vehicles, especially for goods movement as an entry point before the movement of people. The premium segment will remain strong, and demand will rebound in top-tier cities due to the easing of license plate restrictions and rejuvenation of passenger cars as a safer means of travel.

Third, China's investment into autonomous technologies and robotics will accelerate the formation of a "China-centric" market, one that features China's solutions for China's needs, and over time, to the other "emerging markets" that will find the China model appealing. And lastly, private-public partnerships (PPP) will become the supporting structure for smart infrastructure projects. Namely, as the government seeks capabilities from the private sector, the next generation of smart cities will be backed by a joint effort between local cities, state-owned enterprises, and private companies. PPPs provide an opportunity for both foreign and Chinese private enterprises to add value in the deployment of smart infrastructure.
Given the above scenarios and changes, carmakers are facing a few options when recalibrating their strategies. They may choose to continue playing the traditional game – to invest in their currently defined market, to upgrade existing products and distribution channels, while preparing for a squeeze in their profit margins as the market is in decline. Alternatively, they could also invest in exploring new opportunities, through organic or inorganic means, venturing into adjacent spaces or even collaborating across the ecosystem. Another option is to run-out or leave the game entirely – staying in as long as they are profitable without new investments, and even planning an exit strategy to maximize their assets and interests in China.How will this pan out in the future? Will the current developmental trends truly become accelerated? If so, how fast? And how should companies adjust their strategies to prepare for this? For foreign players, an approach appropriate to handle the changing landscape is vital. They need to approach China in a different way to the rest of the world to ensure they can still capture this highly important market.The future of the China market will undoubtedly be different, and hence companies need to figure out in what ways they should operate. For those who choose to stay, they need to comprehend the new realities and discontinuities in China, such as its new economy – the services economy, ubiquitous digital economy, online sales channel proliferation and gravitation from ownership to ridership, as well as the incredible resilience of China's development model in which PPP manifests. These have great implications on how the automotive sector would develop and how companies should prepare themselves.
References1.   2020年3月汽车工业经济运行情况 (2020, Apr. 10). China Association of Automobile Manufactuers. Retrieved April 11, 2020, from http://www.caam.org.cn/chn/1/cate_3/con_5229739.html2.   2020年4月汽车工业经济运行情况简析 (2020, May 11). China Association of Automobile Manufactuers. Retrieved May 12, 2020, from http://www.caam.org.cn/chn/1/cate_2/con_5230150.html3.   乘联会:中长期市场预测受疫情影响下调,2025年乘用车市场零售预计2400万 (2020, May 13). China Passenger Car Association. Retrieved May 14, 2020, from https://auto.sina.com.cn/news/hy/2020-05-13/detail-iircuyvi2940729.shtml
Gao Feng Advisory Company (www.gaofengadv.com) is a professional strategy and management consulting firm with roots in China coupled with global vision, capabilities, and a broad resources network. We help our clients address and solve their toughest business and management issues — issues that arise in the current fast-changing, complicated and ambiguous operating environment. We commit to putting our clients' interest first and foremost. We are objective and we view our client engagements as long-term relationships rather than one-off projects. We not only help our clients "formulate" the solutions but also assist in implementation, often hand-in-hand. We believe in teaming and working together to add value and contribute to problem solving for our clients, from the most junior to the most senior.
Automobility Limited (automobility.io) is a strategy and investment advisory firm helping its clients to create the future of mobility. Mobility needs, previously satisfied through product "ownership", are increasingly being served through mobility services "usership" with profound implications not only for traditional businesses within the value chain, but also for new entrants – as they compete to deliver services. Connected mobility, which we define as "technology-enabled on-demand mobility services for moving people and goods from point A to B", has become a disruptive, paradigm-changing development in the automotive industry. It requires a complete rethinking of the way to deliver value to the market. To succeed, companies must expand their focus from the product (the automobile) to the utility derived from the product ("automobility"), and create a business model and digital ecosystem optimized to provide digitally enabled solutions for both car owners and mobility services users.
Dr. Edward Tse is founder and CEO, Gao Feng Advisory Company, a founding Governor of Hong Kong Institution for International Finance and Adjunct Professor, School of Business Administration, Chinese University of Hong Kong. One of the pioneers in China's management consulting industry, he built and ran the Greater China operations of two leading international management consulting firms (BCG and Booz) for a period of 20 years. He has consulted to hundreds of companies, investors, star-ups, and public-sector organizations (both headquartered in and outside of China) on all critical aspects of business in China and China for the world. He also consulted to the Chinese local governments on strategies, state-owned enterprise reform and Chinese companies going overseas, as well as to the World Bank and the Asian Development Bank. He is the author of several hundred articles and four books including both award-winning The China Strategy (2010) and China's Disruptors (2015) (Chinese version «创业家精神»). He holds a SM and a SB in Civil Engineering from the Massachusetts Institute of Technology, as well as a PhD and an MBA from University of California, Berkeley.Contact Ed by email at edward.tse@gaofengadv.comBill Russo is the Shanghai-based Founder and CEO of Automobility Limited, a strategy and investment advisory firm helping its clients to create the future of mobility.  His over 35 years of experience includes 15 years as an automotive executive, including 16 years of experience in China and Asia.  He has also worked nearly 12 years in the electronics and information technology industries.  He has worked as an advisor and consultant for numerous multinational and local Chinese firms in the formulation and implementation of their global market and product strategies. Bill is also currently serving as the Chair of the Automotive Committee at the American Chamber of Commerce in Shanghai.Contact Bill by email at bill.russo@automobility.ioConnect with Ed on WeChat:

Connect with Bill on WeChat: