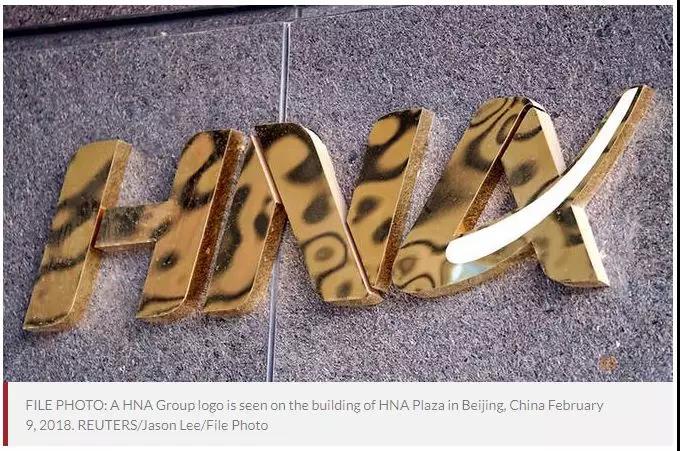 Reporting By Matthew Miller; Editing by Philip McClellan
CHANNEL NEWSASIA | March 16, 2018
China's HNA, Shedding Debt Overseas, Is Still Hainan's Hometown Champion
Hundreds of workers pour concrete as tower cranes swing overhead at the building site where a giant skyscraper is set to soar above the palm-fringed streets of this tropical Chinese city.
HAIKOU, China: Hundreds of workers pour concrete as tower cranes swing overhead at the building site where a giant skyscraper is set to soar above the palm-fringed streets of this tropical Chinese city.
The building is the first of two towers that will serve as the gateway to a 200-hectare new central business district in downtown Haikou, capital of the island-province of Hainan in southern China.
The project is being constructed by HNA Group , the widely scrutinized and highly leveraged aviation-to-financial services conglomerate that got its start in Hainan 25 years ago as a regional airline with just two aircraft.
But HNA is now looking to shed at least some of its sprawling interests in the huge 100 billion yuan (US$15.84 billion) business district, as it has done with many of the interests the company has amassed in a US$50 billion global spending spree.
HNA is currently in talks with potential "strategic partners" for parts of the development, which a range of investors also have stakes in, according to sources familiar with the situation, even as it prepares to re-organize its operations and shrink its workforce.
The search for investors in HNA's hometown underlines the difficulties the company is facing as it struggles under the weight of the debt it racked up during its rapid expansion.
HNA told major bank creditors in January that it faced a potential cash shortfall of at least 15 billion yuan in the first quarter.
In the last two months, HNA has sold more than US$6 billion in prime real estate in Australia, New York and Hong Kong, while selling shares in Deutsche Bank , Park Hotels & Resorts , and Hilton Grand Vacations Inc .
On Monday, HNA Infrastructure Investment Group , one of the key developers of the Haikou business district, said it would sell a Hainan-based property company and logistics unit to Sunac China , a real estate developer, for 1.9 billion yuan.
When asked for comment on the stake sales, the company said in a statement that "HNA is always looking for trusted partners".
The master plan for the Haikou business district includes 23 office buildings, residential compounds, and a massive luxury shopping mall. The first of the Haikou Twin Towers, 94-floors high, is scheduled to open in 2020, and will include a St. Regis Hotel.
Anchored in the center of the district is the Hainan provincial government, with HNA's headquarters, a Buddha-shaped tower, sitting just down the road.
A COMPANY ISLAND
Hainan is in many ways an HNA company island. HNA Group operates 92 enterprises across the province, employing 30,000 workers, with total assets of nearly US$50 billion. It is Hainan's biggest money maker, with total revenues outstripping the combined sales of the province's next nine largest companies combined.
HNA is also critical to local government efforts to establish Hainan as a regional and global tourist destination.
The group operates the island's three commercial airports and its flagship Hainan Airlines operates 17 international and regional routes from the province and transports about 45 percent of all visitors arriving by air here.
The company is currently investing 15.3 billion yuan for a second runway and terminal for Haikou's international airport, part of an expansion to accommodate 35 million visits by 2025.
The branded tailfin of Hainan Airlines, which travels to 110 cities worldwide, has elevated the province's name around the world, said Edward Tse, chief executive of Gao Feng Advisory Company, who previously advised Chinese companies at Booz & Company and Boston Consulting Group.
"HNA is a business card for Hainan province," Tse said.
Hainan's governor, Shen Xiaoming, who visited HNA's Haikou headquarters in November just as the severity of the company's financial struggles emerged, underscored the importance of the group to the province's development.
"HNA took root in Hainan, understands Hainan, implemented a new development concept in Hainan, and built a modern economic system in Hainan," Shen said. "If HNA is good, then Hainan is good; when Hainan is good, then HNA is better."
GOVERNMENT CLEAN-UP
HNA and other non-state conglomerates in China have meanwhile been under intensifying pressure from Beijing to clean up operations and deleverage their businesses.
In recent weeks, Chinese regulators have taken control of Anbang Insurance Group. The government is also investigating the chairman of CEFC, which has agreed to take a US$10 billion stake in the Russian oil major Rosneft.
HNA executives have recently elevated their patriotic rhetoric and have tethered company goals closely to those of Beijing.
HNA Capital, for instance, announced on Feb 27 that it was helping to raise 20 billion yuan to help fund projects along China's new Silk Road trade initiative.
HNA's cause is the "cause of the party, the cause of the people and the cause of all mankind", Chen Feng told HNA's Communist Party members on Feb 7, according to a company report.
HNA's co-chairman, Wang Jian, voiced a darker message, telling employees that the company's difficulties were the result of a "major conspiracy" against the party and President Xi Jinping by foreign and domestic "reactionary forces", according to an internally-distributed email.
China's leading industrial conglomerates and technology companies all have Communist Party committees, and such rhetoric is not unusual now, said Tse of Gao Feng Advisory Company.