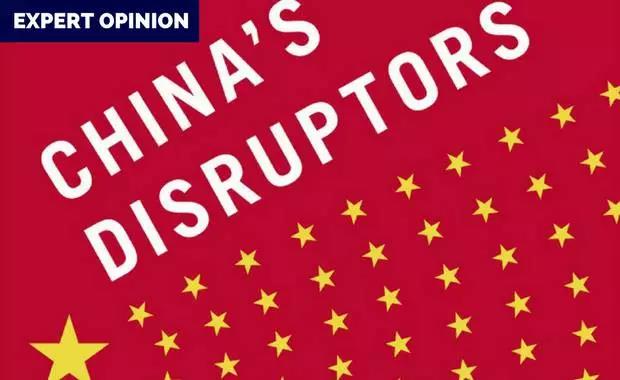 Until recently, international entrepreneurs did not worry much about China's entrepreneurs and start-up companies. But now, fast-growing Chinese enterprises are crossing borders and are becoming formidable competitors in Europe and the US. "These companies are fast and agile and they are disrupting businesses not only in China, but globally", says Edward Tse, author of 'China's Disruptors'.
The current international expansion of Chinese enterprises seems rather intimidating. 'China's Disruptors'describes how Alibaba's $25 billion IPO in 2015 gave it enough money to go after the market share of big Western e-commerce firms like E-Bay to Amazon. Tencent, a large app developer in China, is almost as successful, as no one is selling a smartphone in China without allowing for Tencent products to be sold on it. Huawei is considered to be the backbone of China's telecom infrastructure. JD.com has become the leading player on online supermarket business.
How did China's society and culture shape the entrepreneurial spirit of the likes of icons like Jack Ma (Alibaba), Pony Ma (Tencent), Ren Zhengfei (Huawei), Richard Liu (JD.com), Zhang Ruimin (Haier) and Li Shufu (Geely)?
"Private business was forbidden in China until the end of the Cultural Revolution in 1978. When Deng Xiaoping returned to power, he experimented the return of entrepreneurship to China. At that time, the Chinese were disillusioned with their own future. The people who tried entrepreneurship had their backs against the wall and they had little alternatives but to try. The rapid economic growth of China thereafter gave the entrepreneurs the backdrop to scale their business fast even if their business approach might not be perfect the first time or first few ties around. And the Chinese government's plans to transition China's economy from a planned economy to a market economy have created many new opportunities for the entrepreneurs, one by one."
"As China opened up, more Chinese could see what was going on outside of China. When they saw the drastic difference in the living standards between China and other parts of the (more developed) world, they were in awe and disappointed. But that also became a strong impetus that drove many of the entrepreneurs to want to be successful."
"China's environment for (private) business certainly hasn't been perfect. It has taken several decades for China to evolve its operating environment so it can offer a better operating environment for the entrepreneurs. Even now, that operating environment is still evolving. Nonetheless, the imperfection has been testing the resolve of the Chinese entrepreneurs to generate progress. Many who tried couldn't make it but some could and did. They had to try harder and more diligently than perhaps their counterparts in a more stable and transparent environment. It shaped their skills and strengthened their perseverance. These are the qualities we also find in the likes of Jack Ma, Pony Ma, Ren Zhengfei and Richard Liu."
Of all the names in your book, which enterprise has the best chances of becoming a true global market leader?
"Huawei is already a formidable international player in the telecom equipment and smart phone arenas. I expect them to continue to do well. On a smaller scale but not least globally prevalent is DJI, the drone company. They are by far the global leader in the segment they are in and I expect them to continue to do well as well. I also think Alibaba will become a real prominent international player. Jack Ma has a global vision and is putting together a globally capable, multi-nationality team to drive the global expansion."
Some reviewers have renamed the title of the book to this: 'How China's Disruptors Will Eat Your Lunch'. Should current market leaders be worried about their lunch?
"The people I profiled in my book are disruptors in their respective sectors. So by definition, they would disrupt the incumbent players. Of course, not every company would be disrupted in the same way and at the same time. But many of them would be and so the incumbents including many large multinational corporations need to be vigilant."
What international enterprise or brand looks 'ready to have its lunch eaten' by a disruptor?
"It has happened! Uber essentially decided to hand over the China market to Didi Chuxing in return to some shares of Didi. Companies like Procter & Gamble, Unilever and Nestlé are under threat from newer, more nimble upstarts who rely on digital to carve niche but fast-growing positions. Traditional retailers such as Wal-Mart, Carrefour and Metro are all under threat as 'new retail players' like JD.com and Taobao have gained prominence in the Chinese consumers' purchasing habits. All leading auto OEMs including the German 'Big Three' and US companies, GM and Ford, are also facing big challenges from the combination of connected mobility, 'new energy vehicles' and driverless cars. Even Apple is not immune as local smart phone players like Huawei, OPPO, Vivo and Xiaomi are gaining share over them."
To conclude, let's look forward. What new and perhaps lesser-known upcoming enterprises should be included in the next print of the book?
"That could be DJI, the drone company, or Didi Chuxing, the car hailing and car booking company. Also NextEV, an electric vehicle manufacturer, and Lufax, which is a subsidiary of the Ping An Group, a P2P company, would come to mind."