Edward Tse
Gao Feng Advisory's CEO Dr. Edward Tse's article was published in his regular column on Brazil's HSM Management Magazine. In this article, Dr. Tse wrote about China's mega platforms companies. China's innovations are not just about monetization. It's an inspiration for new intellectual capital on how businesses generate their strategy and innovations. They enrich the world's thought leadership.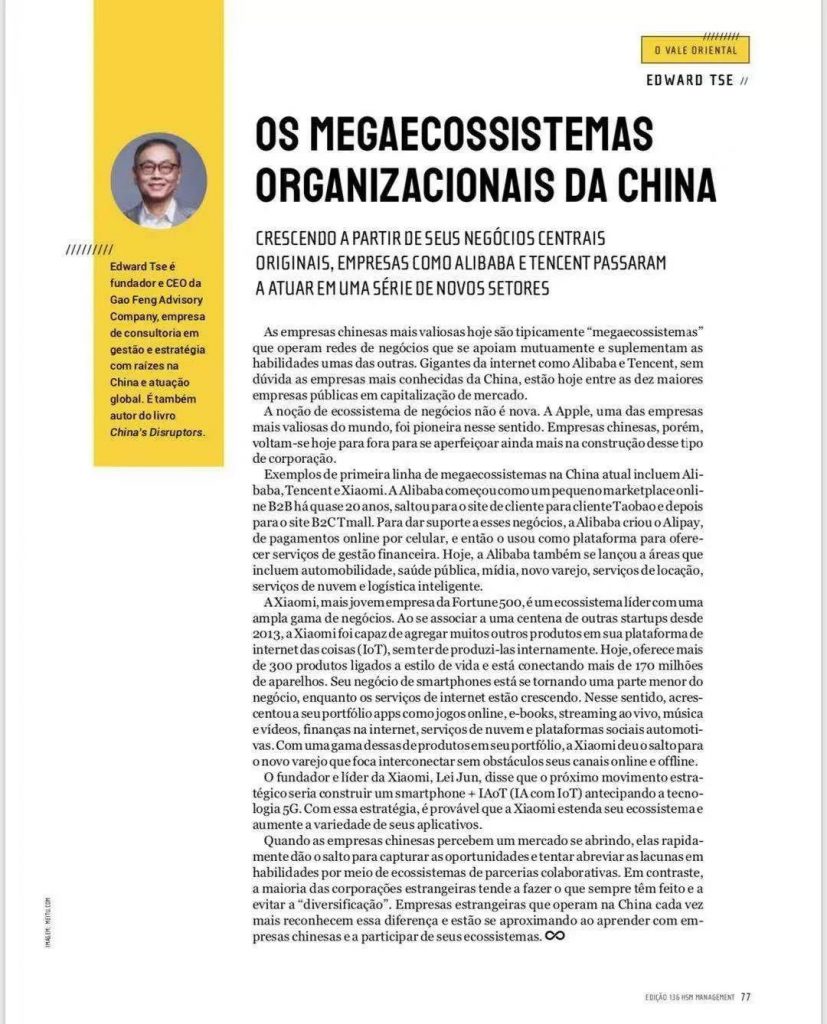 English Version
China's Mega Platforms Organizations
The most valuable Chinese companies today are typically "mega ecosystem" players which operate networks of businesses that can support each other and supplement each other's capabilities. Internet giants, Alibaba and Tencent, arguably the most well-known companies in China, are now in the top ten of public companies by market capitalization.
The notion of a business ecosystem is not new. Apple, one the world's most valuable companies, was a pioneer in this regard. Other leading U.S. tech companies such as Amazon and Alphabet are also ecosystem players. Chinese companies, however, have turned out to be even more adept at building such organizations.
Prime examples of mega ecosystems in China today include Alibaba, Tencent, and Xiaomi. Building out from their original core businesses, they have jumped into a string of new sectors.
Alibaba started as a small business-to-business online marketplace almost 20 years ago and jumped in with consumer-to-consumer site Taobao and later business-to-consumer site Tmall. To support these businesses, Alibaba started Alipay to support mobile online payments and then used it as a platform to offer wealth management services.
Today, Alibaba's has also branched into areas including "automobility", "big health", media, "new retail", location services, cloud services, and smart logistics.
Xiaomi, the youngest Fortune 500 company, is a leading ecosystem players with a range of businesses in hardware, internet services and new retail. By partnering up with a hundred more start-ups since 2013, Xiaomi has been able to add many more products onto its In-ternet of Things (IoT) platform, without having to produce them in-house. Today, Xiaomi offers more than 300 lifestyle products and are connecting more than 170 million devices (excluding mobile phones and laptops).
Xiaomi's smartphone business is becoming a smaller part of its business, while internet services are growing. To this end, it has added to its portfolio apps ranging from online games, eBooks, live streaming, music and videos, internet finance, cloud services and automotive social platforms. This allows them to monetize on ser-vices after selling low-priced hardware, which could drive a large part of revenue going forward.
With such a large range of products in its portfolio, Xiaomi has made the jump into new retail that aims at seamlessly interconnecting its online and offline channel. Over the years, Xiaomi has built interac-tions and close relationships with its supporters, affectionately called the "Mi-fans."
Xiaomi's founder and leader, Lei Jun, has said that the next strate-gic move would be building a smartphone + AIoT (AI and IoT) in anticipation of 5G technology. With this strategy, it is likely that Xiaomi would extend its ecosystem, and increase in the variety of Xiaomi applications.
When Chinese companies sense a market opening, they would quickly make the jump to capture the opportunities and try to make up the gaps in capabilities through ecosystems of collaborative part-nerships. In contrast, most foreign corporations tend to focus on what they have been doing all along and avoid "diversification". Foreign companies operating in China have now increasingly recog-nized this difference and are catching up by learning from Chinese companies and participating into their ecosystems.
About the Author
Dr. Edward Tse is founder and CEO of Gao Feng Advisory Company, and a founding Governor of Hong Kong Institution for International Finance. One of the pioneers in China's management consulting industry, he built and ran the Greater China operations of two leading international management consulting firms for a period of 20 years. He has consulted to hundreds of companies, investors, start-ups, and public-sector organizations (both headquartered in and outside of China) on all critical aspects of business in China and China for the world. He also consulted to the Chinese government on strategies, state-owned enterprise reform and Chinese companies going overseas, as well as to the World Bank and the Asian Development Bank. He is the author of several hundred articles and four books including both award-winning The China Strategy (2010) and China's Disruptors (2015) (Chinese version «创业家精神»).